2019 LinkedIn Webinar Slides: Raising the Bar on Talent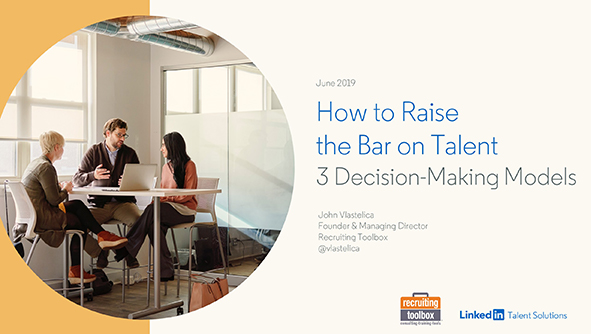 Looking to Raise the Bar on Talent?
Compare the different models companies like Google, Amazon, Microsoft, Yahoo!, Facebook, and Booking use to keep their bar high.
John co-created the Bar Raisers program at Amazon in 1999, when he was their head of tech recruiting. After a successful corporate recruiting leadership career, he and his team have been hired to train thousands of hiring managers and interviewers at companies around the world, helping startups to global leaders like PepsiCo, Booking.com, ESPN, Groupon, Target.com, EA Games, Nubank, Pokemon, and Starbucks put programs in place to set and keep a high hiring bar.
Learn more about the work we do with companies to define their hiring bar, align teams on what good looks like and hiring principles, improve conversion and candidate experience, and train smart interviewers and hiring managers in a methodology to help them interviewing, select, and sell world class talent.